Our Customers
---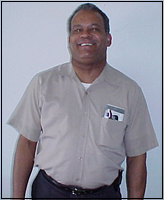 Sam Readus


Sam and his wife Vera, are now completing their fifth transaction with The Beckie Brooks Company. Natives of TN, they moved to Jacksonville when Sam was first assigned to Little Rock Air Force Base in 1976.

In 1983, he was reassigned to LRAFB for the duration of his active career. Upon retiring in 1987, they moved back to TN, only to discover that "home" was now Jacksonville, AR. In 1990, they returned to Jacksonville.
Sam will quickly tell you "there is no better place to do real estate business." He appreciates the "competent and knowledgeable service" and "the friendly atmosphere" for which The Beckie Brooks Company is known.